It was the last day of us perfroming in downtown Ann Arbor and it went well1 Thank god it was sunny and (fairly) warm.. I was just sure we were going to have a repeat of last week and freexe our tushies off. I mean for godness sakes - it forever for my bidice to dry out because it got so wet last week - cold, wet suede is not a good thing :0

Of course we had lots of people out (10 I think) and we had fun. I didn't get photos of everyone (sorry Anne) but here are a few. Also - a hearty thank you to Jess and Jess, along with Jim for pulling in realy goos crowds for both R&J shows. You guys were great! We also did a good fire show and got a great response. I was rally suprised that it was so popular - I had a ton of parents and kids asking me afterward where else we were performing, so I let them know our next two upcoming dates. I was also able to get a plug in there for Alan and his place - so hopefully that works for him. Oh - and the cable chanel had their folks out to film us again - I wasn't that suprised to see them since the last time I spoke with the camera man they were mentioning that they wanted to get some additional footage. Hopefylly it all wokrs out really well. Afterwards we all went to Connors and had food and drinks and were joined by some old friends. It was nice to have a chance to see them and talk again :)

Well - here are the photos!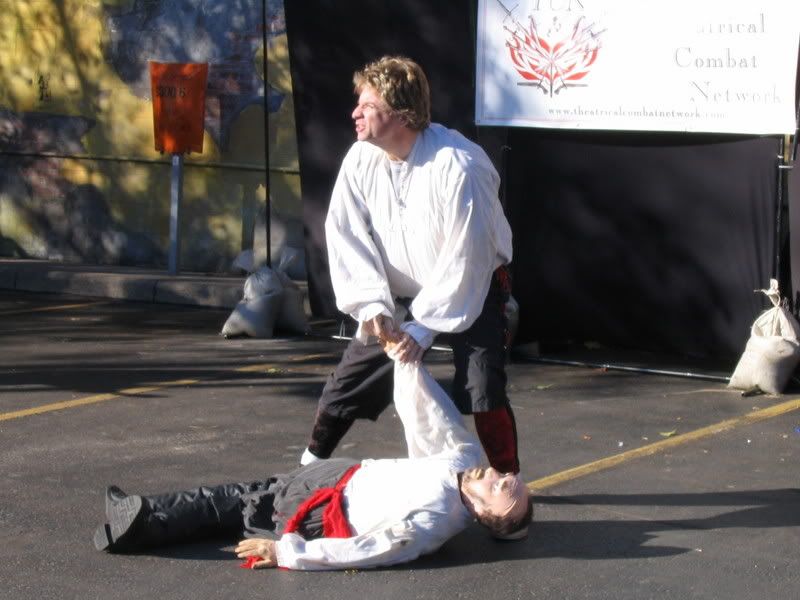 Poor Bruce!




Gary beating the stuffing out of Ken.


Jess & Jess - i'll send you the rest of your pics later!